NACCA, the National Aboriginal Capital Corporations Association, is a membership-driven national association for a network of Aboriginal Financial Institutions, or AFIs. NACCA supports the AFI network, which offers financing to First Nations, Métis, and Inuit businesses and communities. NACCA is committed to the needs of AFIs and the Aboriginal businesses that they serve.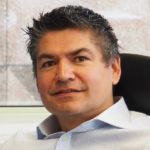 Shannin Metatawabin
Indigenous issues
The Hill Times - September 18, 2017
In the 1980s, the federal government and Indigenous leaders were on the right track. Prior to the United Nations Declaration on the Rights of Indigenous Peoples, the Truth and Reconciliation Commission and even prior to the Royal Commission on Aboriginal Peoples, it was known that the Indigenous economy needed attention. This resulted in the creation of a network of Indigenous business development financial institutions. With an initial federal investment of $240-million, these institutions have since provided more than 42,000 loans totalling $2.3-billion to Indigenous communities and entrepreneurs.
The businesses these loans made possible are diverse. One factor unites them: all are led by Indigenous individuals or communities taking their economic futures into their own hands. In very concrete, everyday ways, these businesses help realize the right to economic self-determination guaranteed in the United Nations Declaration on the Rights of Indigenous Peoples (UNDRIP).
Click here to continue reading this article (Adobe Acrobat PDF file)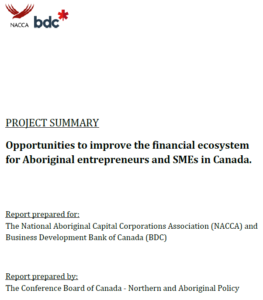 Ottawa, March 7, 2017 - The National Aboriginal Capital Corporations Association (NACCA) and the Business Development Bank of Canada (BDC) commissioned a study of the financial ecosystem that provides support for Aboriginal entrepreneurship in Canada. NACCA and its member Aboriginal Financial Institutions (AFIs) provide financing and support to Aboriginal entrepreneurs. The number of AFIs across Canada has grown to over 50 and include Aboriginal Capital Corporations, Aboriginal Developmental Lenders and Aboriginal Community Futures Development Corporations. In addition to BDC's mainstream financial services and advice, BDC's Aboriginal Banking Unit offers two specialized streams of financing for Aboriginal entrepreneurs including the "Aboriginal Business Development Fund," and "Growth Capital for Aboriginal Business." Continue reading