Indigenous Growth Fund Logo Story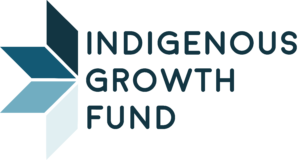 The star blanket design is widely recognized as a symbol of celebration in Indigenous homes across Turtle Island. The star blanket is used in celebration of life events – birth, growth, prosperity. When we are wrapped in a star blanket, we also honour our interconnectness with the land and all life. When we gift a star blanket, there is a ceremony of exchange and gratitude.
Star blanket teachings include a reminder that the energy we put into the creation of star blankets is transferred to the recipient. The star then becomes a symbol of that reciprocity and respect. These teachings carry over into how we live, how we conduct business, and how we interact with each other.
Much like in the creation of star blankets, the Indigenous Growth Fund (IGF) is a transfer of good energy into economic reconciliation and economic self-determination for Indigenous entrepreneurs. Investors, along with the Aboriginal Financial Institutions (AFIs), become a part of the star design, contributing to the celebration of Indigenous business growth and prosperity.
The four points of the IGF star are rooted in Indigenous values and the four directions, also repre- sent the four stages of business growth – startup, growth, maturity and renewal.
The blues of the IGF star represent the colours of the sky, linking us to the sky and stars, where we look when we need guidance from our ancestors, and where we look when we see a path forward with clarity and hope. With the IGF, many more Indigenous businesses will look up as they walk the path of Indigenous growth and prosperity.
To download this story, click here (English)