Below is a list of upcoming events that relate to Indigenous Economic Development, as well as organizations that host these types of events.  Please note they are listed for convenience, may not be open to the general public and are not necessarily endorsed by NACCA.
We are in the process of updating this Events page to make it more informative and easier to use.  If you have an event that you feel would be relevant to Indigenous entrepreneurs in Canada, please send details to info@nacca.ca
---
NACCA Conference on Economic Development - February 27-28, 2019 - Gatineau QC
More details coming soon, but if you're interested in economic development, Indigenous entrepreneurs, access to capital, economic sustainability for our communities, then mark your calendars for February and come back to our site. More Info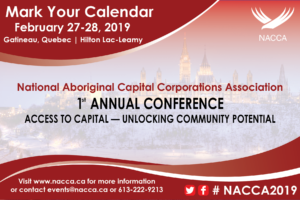 ---
NACCA Annual General Meeting - October 10 & 11, 2018 - Wendake QC
---
NACCA & AFI GMs Meeting - February 26, 2019 - Gatineau QC
---
AFOA Canada 19th National Conference - October 2-4, 2018 - Ottawa ON
Human Capital – Balancing Indigenous Culture and Creativity with Modern Workplaces
Click here for more info and registration on AFOA website
NACCA CEO Shannin Metatawabin will be co-chair
---
Now in its 11th year, the Social Finance Forum, organized and convened by the MaRS Centre for Impact Investing, attracts more than 500 investors, entrepreneurs, finance professionals, charity leaders and public service visionaries who are reshaping markets and ensuring that every dollar makes a difference. Click here to read more and to register.
NACCA CEO Shannin Metatawabin will be one of the guest speakers.
NACCA will also be present as an exhibitor.
---
Business Development Bank of Canada
The Business Development Bank of Canada (BDC) is the non-Indigenous version of NACCA.  They help create and develop strong Canadian businesses through financing, advisory services and capital, with a focus on small and medium-sized enterprises.  They have a subsidiary called BDC Capital, which is similar to NACCA's planned Indigenous Growth Fund.
Join StartUp Canada for their weekly online programs and learning webinars, explore special events live across Canada, and secure your seat for their upcoming Signature events.
FuturPreneur is a community of entrepreneurs and experts, sharing practical advice, business tips and lessons learned.
AFOA Canada offers a wide range of professional development opportunities through online learning, publications and workshops.
Canadian Council for Aboriginal Business (CCAB)
The CCAB's mission is to foster sustainable business relations between First Nations, Inuit and Métis people and Canadian Business.  Throughout the year, the CCAB hosts multiple events at various locations and dates.
Aboriginal Business Match is a two-and-a-half day networking event that connects a national network of Aboriginal and non-Aboriginal decision makers to create opportunities for businesses, training, and employment.
Canadian Business Events Calendar
This website contains a list of events and training opportunities offered for Canadian business leaders throughout Canada.
Aboriginal Conferences & Events
This highly specialized portal is fully-dedicated to assisting individuals interested in locating and attending conferences and events of specific interest to Canada's Aboriginal Peoples.
Entrepreneurial Development Conference and Expo (EDCE)
The Entrepreneurial Development Conference & Expo is an educational event which draws a roadmap to success for small business owners and managers.  Currently offered in four Canadian cities for 2018.