Changes Ahead in 2017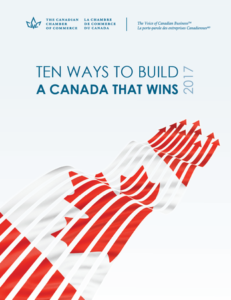 For the last several years, the Canadian Chamber of Commerce has published an annual list of the Top 10 Barriers to Canadian Competitiveness. That document listed some of the self-inflicted wounds that have prevented Canada's economy from achieving its full potential and set out their recommendations for change.
This year, they released a different document. Instead of focusing on barriers, they outlined 10 ways to improve our economic success, along with specific recommendations to advocate throughout the year.
Ten Ways to Build a Canada that Wins
Promote Innovation and Harness the Power of Data
Fight Global Protectionism
Upgrade Canada's Regulatory System to Get Natural Resources and Other Exports to World Markets
Work with Business to Combat Climate Change and Maintain Canada's Competitiveness
Build Canada's Brand
Grow Small Business to Take on the World
Build Digital Skills to Compete in the New Talent Economy
Assure Better Access to Capital for Indigenous Entrepreneurs
Dismantle Internal Barriers that Cost Consumers and Discourage Investors
Encourage Investment by Cutting the Cost of Doing Business in Canada
Click here to read this important publication on their website